Austin Webpages has Solutions for Your Small Business
Austin small business owners, whether you are starting from scratch or need a website redesigned, Austin Webpages will give your small business the marketing it needs to be successful in the Greater Austin market.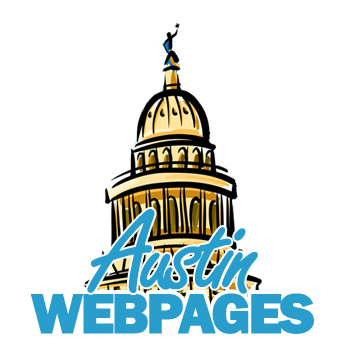 Personal Attention to your Business Needs
Austin Webpages is a small team of motivated website experts that know how to implement web solutions AND market your business on the internet.
Austin Webpages prides itself on personalized attention to your business needs, we will not take the cookie cutter approach that most website development firms use.
The Austin Webpages Approach
Austin small business owners, we know your goal is to be in business for many years. Our goal is to have you as a partner for many years as well. We want your business to expand online. There are many web design companies that cannot offer you the marketing advice that will help your business run. There are countless SEO companies today that charge outrageous prices to promise overnight results without ever telling their clients that they are putting them at a huge risk every day. Austin Webpages will work with you to ensure that you are getting results that will give your business throughout the year, 5 years and 10 years down the road.
Personalized Attention
Austin Webpages and your business are a partnership. Our success is based on your satisfaction.
Small Business Minded
In true Austin tradition, we specialize on small businesses breaking the barrier to take their business online.
Quick Response
We guarantee same day responses, because we understand that your business needs are immediate.
Our Services
Website Development
Complete solutions to take your business online
Graphic Design
Website and mobile designs to expand your brand to the online world
Web Hosting
Austin Webpages can handle all the technical logistics month to month for you
Marketing
Add Social Media and share your expertise to expand your customer base
Why Austin Webpages?
What services do you provide?
Austin Webpages wants to take your business online using the old fashion hard work. We will NOT take the short minded shortcuts that other website companies will take, we want to create a partnership with you at an affordable price.
Austin Webpages can handle the entire process of getting you online, from registering your domain name all the way through getting your website live. Everything from a new web design down to setting up your email Austin Webpages can help you with today.
Austin Webpages can also help you redesign a previous project or website, as we know that there is always need to stay fresh or sometimes it doesn't work out the way you wanted it to, that is why you found us.
How long will it take?
Austin Webpages can get your website online in a matter of a couple of days. A website is very dependent on information from the business owner, so we strongly emphasize that putting your business on the internet is a partnership.
Marketing your product is a marathon, not a race. We will provide direction and collaborate on creating brand awareness for your local market. This is very much a partnership between you, the owner, and Austin Webpages.
How much will it cost?
Austin Webpages will provide you a FREE quote after discussing your needs. Most small businesses that don't require lots of interaction and instead brand awareness can be very inexpensive.
How do I maintain my website?
Austin Webpages can maintain your website for you as long as your business needs. Austin Webpages will always keep your webpage up to date with security in mind, as well as being able to provide support for changes down the road. We know that every business is unique and moves at different paces, we look forward to partnering with your small business for years to come.
We also offer training and documentation that any user will be able to follow for any skill level.